Johanna Basford and her inky adventure & colouring books, inspired me to try out this new fad, which is flying off the shelves whilst reviewing the Noris colouring pencils. Armed with a copy of Johanna's latest release, "Lost Ocean" and a sample pack of Noris pencils I set about one evening colouring in my masterpiece.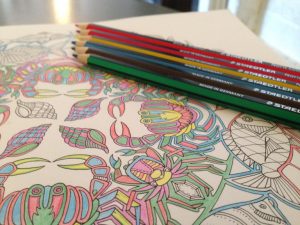 My first colouring-in experience, in the new Johanna Basford  book "Lost Ocean"
Little did I know when starting this what an impact it would have on me. This was designed to be a work project but turned into much more, it turned into a journey of discovery, I wanted to know if you could colour yourself calm?
To give a bit of background, the Noris colouring pencils were introduced last year as Staedtler's answer to the eco-friendly product focus of the market.  Sold as having improved lead strength and intense colour, I thought this would be the perfect product to accompany me on my exploration of colouring therapy. Staedtler describes its manufacturing process as ground-breaking and as a keen artist and a former textile designer; I wanted to see if these pencils were up to my standards.
The pencils have been made with a new innovative material called WOPEX, which consists of a wood plastic composite, a special coating for the surface of the pencil and colour pigments for the lead, the end result of the process according to Staedtler's website is:
The homogenous lead glides particularly smoothly across paper
The density of the material makes the pencil heavier and therefore comfortable to hold
The non-slip, velvety soft surface offers a unique writing experience
The lead point is particularly break resistant and there is no splintering in the event of breakage
Brilliant colours for a rich coverage
I hadn't before considered colouring as a form of therapy or relaxation, despite the recent results from studies detailed in the Psychologies, 7 August 2014, piece entitled "Why adults are going back to colouring books", according to author, speaker and communications expert Mark Robert Waldman "active meditation focuses attention on simple tasks that require repetitive motion.  Concentrating this way replaces negative thoughts and creates a state of peace" he explained at a mental health workshop in 2009.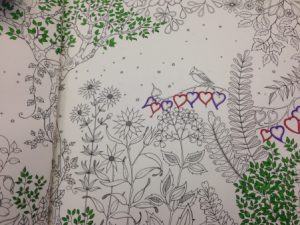 A started page from Johanna Basford's "Secret Garden"
I picked a page at random and got stuck in, having just six colours in my sample pack, was in some ways more beneficial than using the standard 24 colour pack, as it limited my choice. The pictures have the potential to take forever, a book lasting an eternity as the fussier you become, the more time consuming the whole venture becomes.  For a rare moment I was able to loose myself in my colouring. I forgot about everything else that was going on around me, I could shut out the world and any stresses. The only focus of my attention being what to colour in next and which colouring pencil to choose. Waldman's analysis confirms my thoughts "this gentle activity where you choose the colours to create your picture and the repetitive action of colouring it in focuses the brain on the present, blocking out any intrusive thoughts" (Psychologies, 2014).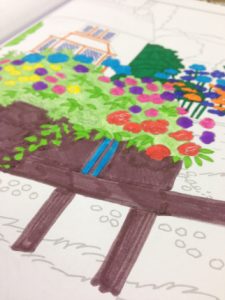 Kirstie's free-styling in the "Gardens" colouring book by Parragon Books
Of course with anything creative, and if you are anything like me (a raging perfectionist) there is a danger that the concern of colouring over a line or making the wrong decision re the colours in the picture could lead to disappointment.  However if you are able to relax, I think this is the whole point, and just let your mind take you wherever it wants to colour…then you could either create something really beautiful or fill a book which is entirely personal and private, your own diary, so to speak, of a colouring journey.
The pencils were comfortable to hold and stayed sharp; the colour produced was strong on the paper and the results pleasing.
Kirstie in our office is a big fan of adult colouring books, so I asked her a few questions about what she thought. Firstly I wanted to know what had attracted her to the colouring books, "I have always loved colouring books since being younger, when I found adult colouring books I was over the moon". She goes on to tell me that she finds colouring very therapeutic and this is mainly what attracts her, "When I'd like to take an hour out from mobile phones, tv etc. I'll do this. It's my quiet time". Her only regret is that sometimes it's hard to find time to do them.
Her medium of choice is the Staedtler  Noris Club fibre-tip colouring pens and uses them with all the colouring books she has purchased.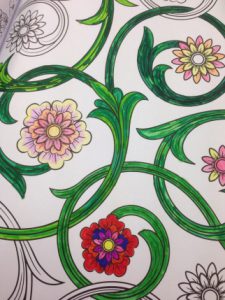 A page from "The Creative Colouring Book For Grown-Ups" by Michael O'Mara Books, kindly shared by Kirstie
"A recent study from San Francisco State University has shown that people who partake in creative activities outside of work not only deal with stress better but their performance at work improves, too" (Psychologies, 2014).
Since the introduction of some colouring books into the office there has been a  skirmish to get hold of one and fill some empty pages…clearly we are an office in need of some occasional calm.
All the colouring books featured  in this blog are available online or in your local book shop. Check out our website for all the Staedtler products we sell, or speak to our friendly customer service team.