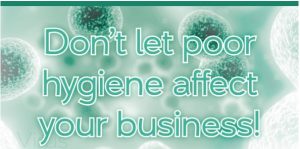 Don't let poor hygiene affect your business!
Sick staff cost British firms £77 billion annually in lost productivity*
Most employers will be aware of the fact that the less sick days taken by employees, the greater the productivity of their employees and business. A clean working environment can improve an employees' state of mind and overall working satisfaction. With all those hours spent daily in the office, it always becomes essential for the environment to be clean and hygienic.
Our new Germ Control range helps reduce the transfer of germs within your workplace to ensure minimal illness related downtime within your business.
Did you know that the dirtiest places within the workplace are:
75% of the sink tap
27% of keyboards
48% of microwave door handles
26% of fridge door handles
23% of water fountain buttons
21% of vending machine buttons
Sealed Keyboards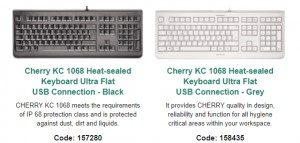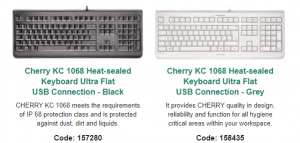 Easy-to-clean watertight corded keyboards CHERRY KC 1068 and is protected against dust, dirt and liquids making them suitable for all hygiene-critical areas and industrial use. Being able to easily clean and disinfect the surface makes the KC 1068 perfect for environments where infection control and patient safety is paramount as well as environments where dust and debris are present and therefore conventional keyboards could be unsuitable.
Anti-bacterial Handles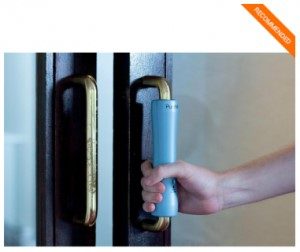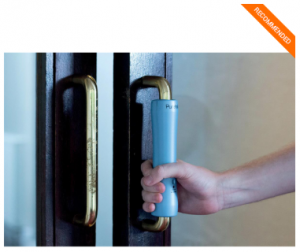 A virus on a single door handle can spread throughout a building in just a few hours! The innovative, antibacterial door handle cover!
Introducing the P-Hold, an innovative, self-cleaning door handle cover. Easily installed onto pull door handles, it simply "snaps" into place. The P-Hold handle kills 99.9% of bacteria. Using silver ion technology to combat pathogens deposited onto the surface by users and then works continuously, 24/7.
Touch Free Dispensers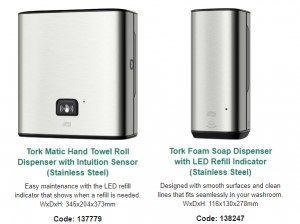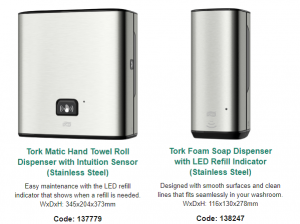 Tork Foam Soap Dispenser 1000ml Sensor-activated LED Refill Indicator in Stainless Steel finish
Easy-to-clean stainless steel with anti-fingerprint protection coating
For use with 1 litre refills
LED refill light indicates the need for maintenance
Make a high-tech impression with this sensor-activated soap dispenser
Tork Matic Hand Towel Roll Dispenser with Intuition Sensor in Stainless Steel finish
An adjustable towel length allows you to select the towel size that is right for your business
Easy maintenance with the LED refill indicator that shows when a refill is needed
The Intuition™ sensor, for touch-free dispensing improves hygiene, while also reducing consumption
Automatic Hand Rub Dispenser & Refills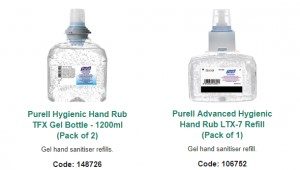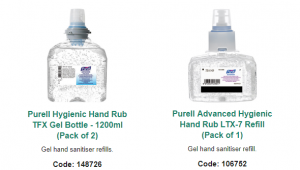 Purell TFX-12™ Hand Sanitiser Dispenser Touch Free
Compatible with Purell TFX-12 1200ml refills
Large sight window for at-a-glance monitoring of refill requirement
Suitable for use in many environments such as hospitals, laboratories, gyms and schools
Purell Advanced Hygienic Hand Rub LTX-7 Refill & Purell Hygienic Hand Rub TFX Gel Bottle 700ml Pack 2
Hand sanitisers reduce the spread of germs by cross contamination
No need to use water or a paper towel as the sanitiser will absorb into your skin
Perfect for use in high traffic areas such as washroom and kitchens
Cleaners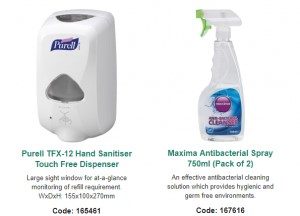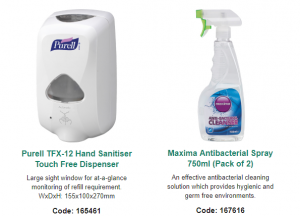 Maxima Antibacterial Spray 750ml Pack 2
Its easy-to-use handy 750ml trigger spray bottles ensures that you are left with hygienic germ free surfaces
The formulation is effective against all common food poisoning bacteria and is great value for money
Suitable for the following business sectors and environments including households, mobile catering establishments, commercial kitchens, hotels & hospitality, canteens, cafes & tea rooms as well as many other environments.
If you would like us to quote you on some items, email enquiries@suppliesweb.com
Alternatively, call us on 0844 335 8845 for more information.